New UMMAN USC120 STATIONARY CONCRETE PLANTS concrete plant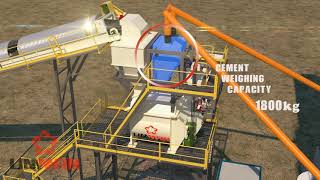 1/11
Model
USC120 STATIONARY CONCRETE PLANTS
Year of manufacture
12/2021
Location
Turkey
Ankara
Placed on
more than 1 month
Description
Overall dimensions
3200 m × 2400 m × 5500 m
UMMAN Concrete Batching Plants USC120 series Stationary Concrete Batching Plant provides high security. It recovers from quick and easy installation. In CE standards, students are the most used business tools in the industry with high quality and common. The parts of our Stationary Concrete Plant are designed with a minimum production facility on site.

UMMAN Concrete Batching Plants are sent internationally in the correct manner.

TECHNICIAL SPECIFICATIONS
Plant Capacity: 120 m³
Mixer Specifications
Mixer Capacity: 3 m³
Dry Filling Capacity: 4500 liters
Compacted Concrete: 3000 liters
Motor Power: 2x55
Weighing Hopper Capacities
Aggregate Weighing Capacity: 7000 kg
Cement Weighing Capacity: 1800 kg
Water Weighing Capacity: 1000 liters
Additive Weighing Capacity: 30 liters
Aggregate Hopper:
Aggregate Compartment: 4-6 pieces
Compartment Capacity: 30-40 m³
Total: 120-240 m³

UMMAN Concrete Batching Plants USC120 Stationary Concrete Batching Unit Equipment:

Aggregate Hopper:
Weighing Belt:
Transfer Tape:
Aggregate Waiting Hopper
Cement Weighing Hopper:
Water Weighing Chamber:
Additive Weighing Chamber:
Compressed Air Installation:
Twin Shaft Mixer:
Mixer Chassis
Moving Platforms and ladder
Filter, Safety Valve and Accessories
PC and Automation System:
Cement Silo:
Control Cabinet:

Please CALL us for our other Concrete Batching Plants and customer-specific solutions!
Бетонные заводы UMMAN Стационарный бетонный завод серии USC120 отвечает всем требованиям благодаря своей высокой производительности и производительности. Экономия времени благодаря быстрой и простой установке. Наши продукты, разработанные в соответствии со стандартами CE, являются наиболее часто используемыми рабочими инструментами в отрасли благодаря своему качеству и долговечности. Части нашего стационарного бетонного завода спроектированы таким образом, чтобы требовать минимум труда и усилий на месте.

Бетонные заводы UMMAN отгружаются в соответствии с международными стандартами доставки.

ТЕХНИЧЕСКИЕ ХАРАКТЕРИСТИКИ
Объем установки: 120 м³
Особенности микшера
Емкость смесителя: двухвальный смеситель 3 м³
Объем сухой заправки: 4500 литров
Плотный бетон: 3000 литров
Мощность двигателя: 2x55
Вместимость бункера для взвешивания
Общая взвешивающая способность: 7000 кг
Грузоподъемность цемента: 1800 кг
Объем воды: 1000 литров
Емкость для взвешивания добавок: 30 литров
Бункер для заполнителя: 4x40 м³


UMMAN Concrete Batching Plants USC120 Стационарный бетонный блок Оборудование:

Агрегатный бункер:
Весовой пояс:
Лента передачи:
Бункер ожидания агрегатов
Весовой бункер для цемента:
Весовая камера для воды:
Камера для взвешивания добавок:
Установка сжатого воздуха:
Двухвальный смеситель:
Шасси микшера
Подвижные платформы и лестницы
Фильтр, предохранительный клапан и аксессуары
ПК и система автоматизации:
Цементный бункер:
Шкаф управления:

ПОЗВОНИТЕ нам, чтобы узнать о других наших бетонных заводах и решениях по индивидуальному заказу!
UMMAN Beton Santralleri USC120 serisi Sabit Beton Santrali, yüksek kapasite ve performans ile her seviyede ihtiyacın karşılanmasını sağlar. Hızlı ve kolay kurulum sayesinde zamandan tasarruf sağlanır. CE standartlarında tasarlanan ürünlerimiz, kalite ve dayanıklılığı ile sektörün en fazla kullanılan iş araçlarıdır. Sabit Beton Santralimizin parçaları sahada minimum işçilik ve çaba gerektirecek şekilde dizayn edilmiştir.
UMMAN Beton Santralleri uluslararası nakliye standartlarına uygun olarak gönderilir.

TEKNİK ÖZELLİKLER
Santral Kapasitesi: 120 m³
Mikser Özellikleri
Mikser Kapasitesi: Çift Milli Mikser 3 m³
Kuru Dolum Hacmi: 4500 litre
Sıkıştırılmış Beton: 3000 litre
Motor Gücü: 2x55
Tartı Bunker Kapasiteleri
Agrega Tartım Kapasitesi: 7000 kg
Çimento Tartım Kapasitesi: 1800 kg
Su Tartım Kapasitesi: 1000 litre
Katkı Tartım Kapasitesi: 30 litre
Agrega Bunkeri: 4x40 m³

UMMAN Beton Santralleri USC120 Sabit Beton Santrali Ünitesi Ekipmanları:
Agrega Bunkeri:
Tartım Bandı:
Transfer Bandı:
Agrega Bekleme Haznesi
Çimento Tartı Haznesi:
Su Tartı Haznesi:
Katkı Tartım Haznesi:
Basınçlı Hava Tesisatı:
Çift Milli Mikser:
Mikser Şasisi
Yürüyen Platformlar ve merdiven
Filtre, Emniyet Valfi ve Aksesuarlar
PC ve Otomasyon Sistemi:
Çimento Silosu:
Kontrol Kabini:

Diğer Beton Santrallerimiz ve müşteriye özel çözümlerimiz için lütfen bizi ARAYINIZ!
Important
This offer is for guidance only. Please request more precise information from the seller.
Safety tips
Seller's contacts
Najeh Abushehadeh
Languages:
Turkish, Arabic
Ahmet Nizam
Languages:
English, Turkish, Russian
Deniz Şanti Dumrul
Languages:
English, Turkish
Turkey, Ankara, Türkistan Cad. No:7 Sincan Organize Sanayi Bölgesi
Seller's local time: 00:32 (+03)
Selling machinery or vehicles?
You can do it with us!