New UMMAN UMPB-36/18 Concrete Blocks and Bricks Making Machine block making machine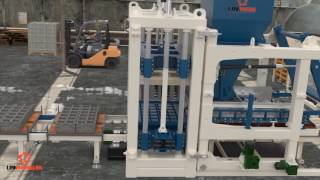 1/13
Model
UMPB-36/18 Concrete Blocks and Bricks Making Machine
Type
block making machine
Year of manufacture
12/2021
Location
Turkey
Ankara
Placed on
more than 1 month
UMPB-36/18 CONCRETE BLOCKS AND BRICKS MAKING MACHINE
Brand: UMMAN Parquet Block
Type: UMPB-36/18
Capacity: 150-180 Pallets/hour
Mixture Bunker Quantity Buckets: Double Bucket (coarse-fine mortar)
Control System: Fully Automatic
Total Power: 125 kW
Voltage: 380 V / 50 Hz
Total Weight: 27 tons
Height: 3500mm

Production capability in one press: 36 pcs. Concrete Blocks / realizes the production of 18 pieces of 20 briquettes and all border types.
Production Capacity: Minimum 150-180 pallet range in 1 hour

Products produced: UMMAN3618 series machine operates on hydraulic press and mechanical vibration principle Proper for 24 hours operation can produce any geometrical shape, concrete blocks, bordures, bricks with an height between 3 and 45 cm just by changing the mould.
Main Chassis: 200x200x10 mm closed box profile is used in the main chassis.
Mortar Silo Capacity: 2x2 m³
Lower Vibrators Type: Lower vibrators are in two group with independent servo motors and with adjustable hitting power
Lower Vibrator Motor Power: 5,5 kw 4 independent servo motors
Total Motor Power: 125 kW
Upper Vibrator Motor Power: 1,7 kw x 2 units indepented motors optional at two bunker and concrete block producing machines.
Hydraulic Power: 150(200) bars
Pallette Dimensions: 140x140x5 cm

Please CALL us for our other Concrete Blocks, Briquette Machines and customer-specific solutions!
UMPB-36/18 PARKE VE BRİKET MAKİNASI

Marka: UMMAN Parke Blok
Tip: UMPB-36/18
Kapasite: 150-180 Palet/saat
Harç Kova Sayısı: Çift Kova (kaba-ince harç)
Kontrol Sistemi: Tam Otomatik
Toplam Güç: 125 kw
Voltaj: 380 V / 50 Hz
Toplam Ağırlık: 27 ton
Yükseklik: 3500 mm

Tek baskıda üretim kabiliyeti: 36 ad. Kilit Parke/ 18 adet 20'lik briket ve tüm bordür çeşidi üretimlerini gerçekleştirir.
Üretim Kapasitesi: 1 saatte minimum 150-180 palet aralığı
Ürettiği mamüller: UMMAN3618 serisi makina hidrolik baskı ve mekanik vibrasyon esasına göre çalışmaktadır. 24 saat çalışmaya elverişlidir. Yüksekliği 3 cm ile 45 cm arasında olan her türlü geometrik şekli, beton parke taşlarını, bordür bims, briketi aynı makine de sadece kalıbı değiştirmek sureti ile üretilebilir.
Dış Şase: Ana gövdelerde 200x200x10 mm kapalı kutu profil kullanılmıştır.
Harç Silo Kapasitesi: 2x2 m³
Alt Vibratörlerin Tipi: Alt vibratörler 2 grup halinde bağımsız servo motorlu ve vurma kuvvetleri ayarlanabilir şekilde üretilmektedir.
Alt Vibratör Motor Gücü: 5,5 kw 4 adet bağımsız servo motorlu
Toplam Motor Gücü: 125 kw
Üst Vibratör Motor Gücü: Çift Kovalı ve kilit parke üretimi yapılacak makinalarda opsiyonel olarak 1,7 kw x 2 adet bağımsız motorlu
Hidrolik Basıncı: 150(200) bar
Palet Ölçüsü: 140x140x5 cm


Diğer Parke, Briket Makinalarımız ve müşteriye özel çözümlerimiz için lütfen bizi ARAYINIZ!
Important
This offer is for guidance only. Please request more precise information from the seller.
Safety tips
Seller's contacts
Najeh Abushehadeh
Languages:
Turkish, Arabic
Ahmet Nizam
Languages:
English, Turkish, Russian
Deniz Şanti Dumrul
Languages:
English, Turkish
Turkey, Ankara, Türkistan Cad. No:7 Sincan Organize Sanayi Bölgesi
Seller's local time: 02:06 (+03)
Selling machinery or vehicles?
You can do it with us!